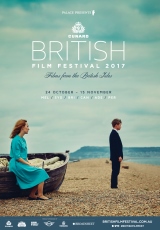 Screening nationally at Palace Cinemas 24 October – 15 November
Presented by Palace, the Cunard British Film Festival will return in October 2017 with a standout selection of prestige film and box office hits from the British Isles.
OPENING NIGHT - Breathe
Wednesday 25 Oct
Join us for the premiere of this inspiring true story and Opening Night Film of the BFI London Film Festival, Breathe, starring Andrew Garfield (Hacksaw Ridge) and Claire Foy (The Crown).
6.15pm Opening night pre-film reception includes Pimm's cocktails, red and white wine, popcorn, British fare and live music.
7.00pm Film screening
Palace Movie Club Members $35
General Admission $40
SPECIAL EVENT - Manolo: The Boy Who Made Shoes for Lizards
Friday 27 Oct
Gather your friends for a glamorous night out with a gin tonic on arrival and the premiere of the must-see documentary Manolo: The Boy Who Made Shoes for Lizards.
6.30pm Gin and tonic on arrival
7.00pm Film screening
Palace Movie Club $26
Adult $30
CLOSING NIGHT - Finding your Feet
Wednesday 15 Nov
Join us for the World Premiere of the charming, feel-good Finding Your Feet, starring Imelda Staunton (Pride) and Celia Imrie (Bridget Jones's Baby)
6.15pm Closing night reception including drinks and music
7.00pm Film screening
Palace Movie Club $30
Adult $35