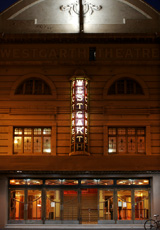 The architecturally striking Westgarth combines traces of its original 1920's Classical features with later additions of distinctly Art Deco, modernistic and geometric decorative styling inspired by Walter Burley Griffin presumably in the 1930's.
Your favourite local cinema has undergone more than just a face-lift - over six months a $4 million dollar refurbishment has taken place that painstakingly restored and preserved the original spirit of the building.
The complex is a blend of technology and luxury, boasting three state of the art large screens, allocated seating, licensed espresso bars and quality snack options.
Fully-Licensed Wine & Espresso Bar
Enjoy fresh premium Lavazza coffee prepared by our experienced baristas or choose from a great variety of food and drinks including local and international premium wine & beer, handmade Connoisseur choc tops, healthy choice popcorn cooked in olive oil and more.
Private Hire, Group Bookings & Events
Palace Westgarth is equipped with state of the art 2D and 3D digital projection with Dolby Digital surround sound. The Westgarth wine & espresso bar is available for private pre or post film functions. To find out more about Private Hire, Group Bookings & Events, please click here.
Getting to Palace Westgarth
Parking
The best place to park is 50 metres north of the cinema along High street, just after Union street. Parking on the northern side of Union street is available; and we have a disabled/mobility impaired parking space directly in front of the cinema. Please be aware that High st is a clearway at certain times of day in both directions, so please read the signs when parking.
Public Transport
TRAM:
#86 alight at stop number 27 from both directions.
TRAIN:
Epping train, alight at Merri station. Ten minute walk to High Street.
Hurstbridge line, alight at Westgarth station. Five minute walk to High Street.
TICKET PRICES - Effective December 17, 2015
**3D + $3.00
Everyday Except Tuesday
Tuesday All Day
Saturday After 5pm
Adult
$20.50
$12.50
$21.00
Student
$15.50
$12.50
$16.00
Child
$14.50
$12.50
$15.00
Senior 60+
$12.50
$10.00
$13.00
HealthCare
$16.50
$12.50
$17.50
Pensioner
$16.50
$12.50
$17.50
Industry Conc
$17.50
$12.50
$17.50
MClub Adult
$15.50
$12.00
$15.50
MClub Golden
$10.50
$9.50
$10.50
MClub Student
$11.50
$11.00
$11.50
PLEASE NOTE: Special pricing may apply to Film Festivals and Special Events.
All 3D films incur a $3.00 surcharge plus $1 for 3D glasses if required.
Ticket prices subject to change without notification.
(Bargain Day Tuesday Non-applicable on Public Holidays, Film Festivals & Special Events)