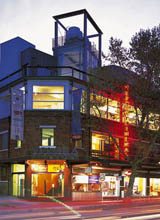 Featuring a sleek and modern interior, the Verona screens a carefully considered programme, encompassing the best in international cinema – whether it be art-house, quality commercial, documentary or edgy independent filmmaking. The Palace Verona is where you'll see the latest from the Coen Brothers, Woody Allen, Pedro Almodovar, Mia Hansen-Løve, Andrey Zyvagintsev, Jim Jarmusch, Stephen Frears and P.T. Anderson.
Fully-Licensed Wine & Espresso Bar
Enjoy fresh premium Lavazza coffee prepared by our experiences baristas or choose from a great variety of food and drinks including local and international premium wine & beer, handmade Connoisseur choc tops, healthy choice popcorn cooked in olive oil and more.
Private Hire
The Verona is equipped with state of the art digital and 35mm projection with Dolby Digital surround sound. The Verona wine & espresso bar is available for private pre or post film functions. Please ring 02 9339 0348 or email events.nsw@palacecinemas.com.au for more information.
Parking
Paid parking is available at the St Vincent's Hospital Car Park (access via Victoria Street) - a 2 minute walk from the cinema. Please contact the car park on (02) 8382 3896 for details of casual parking rates and times.
Accessibility
Palace Verona is equipped with Disabled facilities.
Palace Movie Club Ticket Prices
Movie Club Adult & guest $15.50
Movie Club Student & guest $11.50
Movie Club Golden & guest $9.50
Purchase a Movie Club membership now
Standard Ticket Prices
Adult $19.50
Pensioner/Healthcare $16.00
Senior 60+ $12.50
Student $15.50
Children aged 14 and under $14.00
Discount Monday Ticket Prices
Movie Club Adult & guest $11.00
Movie Club Student & guest $11.00
Movie Club Golden & guest $9.50
Non-member Adult/Pensioner/Healthcare $11.50
Senior 60+ $10.50
PLEASE NOTE:
In cinema Credit Card purchases will incur a 1.8% surcharge.
Movie Club Members can bring only a guest of the same age in at the same price otherwise the price reverts to the Movie Club Adult price.
Special pricing may apply to Film Festivals and Special Events. 3D tickets are an additional $4 per ticket including glasses, $3 without glasses.
(Bargain Day Monday Non-applicable on Public Holidays, Film Festivals & Special Events)​