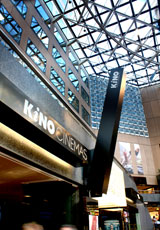 Come in and experience our luxurious cinemas, now the premier metropolitan cinema in Melbourne.
Fitted with plush, comfier seats, new carpets, 7 state-of-the-art cinemas with wall-to-wall screens, stadium seating, digital sound and a stylish bar area where you can meet, enjoy a drink and a chat.
The Kino Cinemas continues to offer Melbourne the best selection of local and international feature films and documentaries. Throughout the year we present film festival programs, retrospectives and special events such as premieres, forums and Q&A's.
If you're a lover of fine films or a dedicated art-house cinema goer then you'll love Kino Cinemas.
Fully-Licensed Wine & Espresso Bar
Enjoy fresh premium Lavazza coffee prepared by our experiences baristas or choose from a great variety of food and drinks including local and international premium wine & beer, handmade Connoisseur choc tops, healthy choice popcorn cooked in olive oil and more.
Private Hire, Group Bookings & Events
The Kino wine & espresso bar is available for pre or post film functions. To find out more about Private Hire, Group Bookings & Events, please click here.
Getting to Kino Cinemas
Parking
Collins Place Car park offers our Kino Cinemas guests Free* Parking – (*The first two hours are free, then further rates apply). Located at 28 Flinders Lane, entering Flinders Lane from Spring Street, the Collins Place Car park is the second car park, approximately 50 metres down on your right. Patrons must validate their parking ticket at the box-office for discount. Discount does not apply to pre-paid parking.
Public transport
Patrons can catch the 109 & 112 Trams from Collins St and Kino Cinema is less than 100 metres away from the Parliament Station on Spring St.
Kino Cinemas Ticket Prices - Effective June 11, 2015
TICKET PRICES - Effective December 17, 2015
**3D + $3.00
Everyday Except Monday
Monday All Day
Saturday After 6pm
Adult
$19.50
$8.50
$20.00
Student
$15.50
$8.50
$16.00
Child
$13.50
$8.50
$13.50
Senior 60+
$12.50
$8.50
$13.50
HealthCare
$15.50
$8.50
$16.50
Pensioner
$12.50
$8.50
$13.50
Industry Conc
$17.50
$12.50
$17.50
MClub Adult
$15.50
$8.50
$15.50
MClub Golden
$10.50
$8.50
$10.50
MClub Student
$11.50
$8.50
$11.50
Tickets prices may be different for Film Festivals and Special Events. Ticket prices subject to change without notification.
Local Dining
Pei Modern, just around the corner from Kino Cinemas, serves Mark Best's take on fresh market produce and is the perfect location for an exquisite post-film dining experience. Open every day from 7.30am until 11pm.