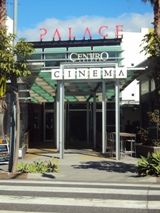 We are thrilled to share some news with you - Palace Centro is undergoing an exciting renovation. From today (June 30) until November cinemas one & two are closed, however, three & four and the bar will remain open. We will continue to show the movies that you love with only the occasional interruption, so please check online for session details and updates.
Once we're finished renovating you'll be able to enjoy:
• An even more luxurious cinema experience
• Upgraded plush seating
• Improved in-cinema sight lines - no matter where you sit, always have the best seat in the house
• More movie variety with an increase of auditoria from four to seven
While we change in front of you, we want to thank you in advance for your patience. We will automatically extend your membership by five months and as a Movie Club member, we'll continue to keep you updated on our progress via our fortnightly eNews emails.
See it in style at Palace Cinemas.
Offering quality independent films, the best of mainstream, Sunday afternoon cult classics, International film festivals and monthly Premiere Thursday opening nights, the fully-licensed Palace Centro Cinema is an oasis for Brisbane cinefiles. Escape and unwind with mouth-watering Award winning olive-oil popcorn and our feature length pour of your favourite drop.
Palace Centro Cinema is the proud host of the annual French, Italian, Spanish, German, Greek, Israeli, British and Scandinavian Film Festivals. Four theatres with luxurious seating and the latest in Dolby digital surround sound make for the total cinema experience. Centro is also an exciting function venue, and our 4 cinemas can cater to up to 800 people.
For publicity, promotions and marketing enquiries contact Georgina Stegman on (07) 35111356 or email at georgina@thinktankcommunications.com
For Event Enquiries contact Charley Greaves at charley.greaves@palacecinemas.com.au or on 0402 338 525 during business hours (9am - 5pm, Monday - Friday).
Fully-Licensed Wine & Espresso Bar - take your drinks into the cinema while you watch your favourite movie
Enjoy fresh premium Lavazza coffee prepared by our experiences baristas or choose from a great variety of food and drinks including local and international premium wine & beer, healthy choice popcorn cooked in olive oil and more.
Getting to Palace Centro
Parking
SECURE MCWHIRTERS CAR PARKING OFFER FROM $5*
Palace Centro Cinemas, in conjunction with McWhirters Secure Parking, now offers you a cheap parking option when you visit the cinema.
To obtain these discount rates book online by visiting www.secureparking.com.au and select 'Secure-a-Spot'. Then select 'McWhirters' and insert promo codes noted below after selecting dates and times. Follow prompts to confirm booking and never pay full price for parking again.
Evening Parking - $5, promo code: PALACEEVE (Enter car park after 4pm & exit before 5am next day)
Weekend Parking (All Day) - $5, promo code: PALACEWEND (Flat rate, exit before 5am next day)
Weekday Casual Parking (Monday- Friday) - $12, promo code: PALACEDAY
UNDERBUILDING
Limited car parking available beneath the building. Street parking is limited to 2 hours Monday to Friday until 6pm daily and Saturday until midday. There are numerous four-hour meters in McLachlan, Doggett and Robertson Streets. The closest parking station is located in Ann Street Fortitude Valley.
Public Transport
The closest railway station is Brunswick Street Station (about 10-15 mins walk to the cinema). Alternatively just take bus #199 from The Cultural Centre at Southbank or from City Hall on Adelaide Street. It's just a 3 minute walk down Robertson Street to the cinema.
TICKET PRICES
All Day &
Saturday
before 5pm
Saturday
After 5pm &
Public Holidays
Monday
All Day
Adult
$17.00
$18.00
$9.00
Student
$11.00
$12.00
$9.00
Child
$11.00
$12.00
$9.00
Senior
$10.50
$12.50
$9.00
Pensioner
$12.50
$12.50
$9.00
Health Care
$12.50
$12.50
$9.00
Industry Concession
$12.50
$12.50
$9.00
Movie Club Adult
$11.50
$11.50
$7.50
Movie Club Golden
$9.50
$9.50
$7.50
Movie Club Student
$8.50
$8.50
$7.50
Online and phone bookings incur a $1.30 processing fee.
3D movies incur an extra $3.00 fee
(Bargain Day Monday Non-applicable to Film Festivals, Special Events and not available Public Holidays)
PLEASE NOTE: Special pricing may apply to Film Festivals and Special Events.
MOVIE LUNCHEONS
– during school terms - suspended whilst renovations are underway. This page will be updated when Movie Luncheons will be re-instated.
$14.95 includes Film and a light sit down lunch including a delicious gourmet sandwich, a Lavazza Filtered coffee and cake. Films commence at 11.00am with seated luncheon to follow. Bookings are essential and should be made 48 hours prior to screening.
BABES IN ARMS - Baby Friendly Sessions Thursday $8 at 11am - Suspended whilst renovations are underway. This page will be updated when Babes In Arms Sessions will be updated.

$8.00 (under 3 years free) specially lit sessions for Mothers with babes. More details on this website under Festivals and Events. Feature Films will be listed on session times as (babes).
Tickets for listed sessions, unless otherwise indicated, are on sale from the venue box offices and online through this website (by clicking on the 'session time' of your choice). Not all ticket types may be available for purchase online. Other ticket types may be purchased directly from the box offices.
Vintage Centro brings you the best eclectic selection of cult classic films so you can slip back in time and fall into your favourite genre from Centro Shocks, and Centro Thrills to Centro Epics, Centro Space, Centro Sounds, Centro Awards and of course, Centro Affairs. Tickets are $8 for Palace Movie Club Members, $10 for General Admission. Refer to the Festivals and events section of this website for further details and upcoming films screening.
PREMIERE THURSDAYS - Regularly from 6:30pm
Premiere Thursdays are the perfect way to start the weekend in style. Once a month Palace Centro rolls out the red carpet to welcome a great new cinema release. Enjoy a pre-film function with discounted beverages as well as lucky door prizes and samples of great food from around the James Street precinct. Information about upcoming Premiere Thursdays events can be found in the Festivals and Events section.