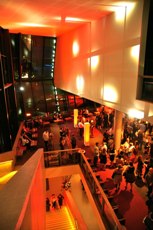 Palace Barracks screens the best in mainstream movies, arthouse and quality family films. Palace Barracks features six theatres accommodating over 1000 seats with luxurious seating and the latest in Dolby digital surround sound. The precinct itself is surrounded by fine dining, fashion and quality retail outlets.
As Suncorp Stadium is located near Palace Barracks, please allow yourself more time for parking due to the busy nature of the precinct. For further details about game day and special events at Suncorp Stadium, please visit the website to ensure your visit to Barracks is as smooth as possible.
For publicity, promotions and marketing enquiries contact Georgina Stegman on (07) 35111356 or email at gmstegman@me.com
For Event Enquiries contact Charley Greaves at charley.greaves@palacecinemas.com.au or on 0402 338 525 during business hours (9am - 5pm, Monday - Friday).
Barracks Espresso Bar and Café
Enjoy fresh premium Lavazza coffee prepared by our experiences baristas or choose from a great variety of food and drinks including local and international premium wine & beer, handmade Connoisseur choc tops, healthy choice popcorn cooked in olive oil and more. Open 7 days on the ground floor of the cinema. Open from 8.30am Monday - Friday and 9am Saturday and Sunday.
Getting to Palace Barracks
Alternative access to the cinema is via the pedestrian bridge from Roma Street or you can hop onto one of the many buses that drops you off at the front of The Barracks on Petrie Terrace
Parking
Undercover parking is available with Secure Parking via access off Petrie Terrace. The first 2 hours is free. Parking for cinema patrons is discounted thereafter, however please make sure to have your parking ticket validated at the Box Office. Parking is also available at Brisbane Transit Centre which is just a short walk to Palace Barracks.
Prices:
0-2 Hours - Free
Up to 4 hours - $8.00
4 Hours + - $15.00
Upon validation of your ticket at the Cinema Box Office
TICKET PRICES
All Day &
Saturday
before 5pm
Saturday
After 5pm &
Public Holidays
Monday
All Day
Adult
$19.00
$19.00
$9.50
Student
$13.00
$13.00
$9.50
Child
$13.00
$13.00
$9.50
Senior
$11.50
$12.50
$9.50
Pensioner
$14.50
$14.50
$9.50
Health Care
$14.50
$14.50
$9.50
Industry Concession
$14.50
$14.50
$9.50
Movie Club Adult
$11.50
$11.50
$7.50
Movie Club Golden
$9.50
$9.50
$7.50
Movie Club Student
$8.50
$8.50
$7.50
Online transactions incur $1.50 processing fee.
3D movies incur an extra $3.00 fee
PLEASE NOTE: Special pricing may apply to Film Festivals and Special Events.
(Bargain Day Monday Non-applicable to Film Festivals & Special Events, and not available Public Holidays)
(All 3D pricing is inclusive of glasses and is based on a $3.00 premium over and above our regular pricing for 2D screenings)
PLEASE NOTE: Special pricing may apply to Film Festivals and Special Events.
BABES IN ARMS - Baby Friendly Sessions Thursday $8 at 11am
$8.00 - (under 3 years free) specially lit sessions for Mothers with babes. More details on this website under Festivals and Events. Feature Films will be listed on session times as (babes).
Tickets for listed sessions, unless otherwise indicated, are on sale from the venue box offices and online through this website (by clicking on the 'session time' of your choice). Not all ticket types may be available for purchase online. Other ticket types may be purchased directly from the box offices.