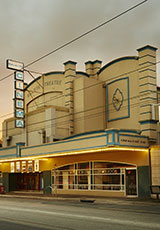 The Palace Balwyn Cinema is a local institution, entertaining multiple generations within its stunning Art Deco interior. The original single screen two-level cinema was converted into three auditoriums during the 1990s, and a further two screens (156 seats each) opened in June 2002. The result is a state-of-the-art, comfortable venue that still maintains the charm and aesthetics of its long and fond history. The selection of films reflects the broad popularity of the cinema, with quality commercial product screening alongside thought-provoking arthouse cinema.
Fully-Licensed Wine & Espresso Bar
Enjoy fresh premium Lavazza coffee prepared by our experiences baristas or choose from a great variety of food and drinks including local and international premium wine & beer, handmade Connoisseur choc tops, healthy choice popcorn cooked in olive oil and more.
Private Hire, Group Bookings & Events
The Palace Balwyn Cinema is equipped with state of the art 35mm and digital projection with Dolby Digital surround sound. The Balwyn wine & espresso bar is available for pre or post film functions. To find out more about Private Hire, Group Bookings & Events for 20 or more guests, please click here.
Getting to Palace Balwyn Cinema
Public Transport
Stop number 46 on Tram #109 from the city to Box Hill
Parking
Parking is available at the Balwyn Bowling Club car park and is free, located a short walk from the cinema on Whitehorse Road. Please observe local parking restrictions for street parking.
Accessibility
The Balwyn Cinema is equipped with Disabled facilities
TICKET PRICES - Effective December 17, 2015
**3D + $3.00
Everyday Except Tuesday
Tuesday All Day
Saturday After 5pm
Adult
$20.50
$12.50
$21.00
Student
$15.50
$12.50
$16.00
Child
$14.50
$12.50
$15.00
Senior 60+
$12.50
$10.00
$13.00
HealthCare
$16.50
$12.50
$17.50
Pensioner
$16.50
$12.50
$17.50
Industry Conc
$17.50
$12.50
$17.50
MClub Adult
$15.50
$12.00
$15.50
MClub Golden
$10.50
$9.50
$10.50
MClub Student
$11.50
$11.00
$11.50
PLEASE NOTE: Special pricing may apply to Film Festivals and Special Events. Ticket prices subject to change without notice.
(Discount Tuesday Non-applicable on Public Holidays, Film Festivals & Special Events)